20 hectares
150 - 350 meters above sea level
Malvasia delle Lipari - Catarratto
Nerello Mascallese - Calabrese - Corinto Nero
organic - natural
Isola di Salina
Messina - Sicily - Italy
Artisanal winemaking in the Aeolian Islands is not a new thing, nor is making natural wines. Antonio Caravaglio's ancestors are 1 of 5 original families from Spain that were encouraged to migrate to these rustic, volcanic islands in the early 1500s to develop agriculture.
But first the islands.
The Aeolian Islands, off the coast of Messina, is a volcanic archipelago in the Tyrrhenian Sea north of Sicily, named after the demigod of the winds Aeolus. There are seven islands in total, covering an area of 44.3 sq. miles, the second-largest island, Salina (10 sq miles), is where Antonio 'Nino' Caravaglio calls home, he and about 2,500 other full-time residents. This rather lush rock, compared to the others, boasts over 400 different types of plants, as well as, grapes, olives, and capers, that are cultivated for personal and business use. Salina is known for having the highest quality capers and Malvasia.

Caravaglio's ancestors were among the first to work with Venetian traders bearing rootstock from Greece, planting the original Malvasia delle Lipari and Corinto Nero vines. Few vine-growing regions in the world can claim such an unbroken chain of organic cultivation. Grapes on these volcanic hills, warmed in the hot day and cooled with the gale wines at night, have consistently been fostered naturally. Drunk with Mediterranean salty, sea air and preserved by the island's volcanic mineral soil. Phylloxera has no place here. Grapes are harvested by the hands of Nino, his wife Elisa and their daughter Alda. Fermented on indigenous yeasts in temperature-controlled, stainless steel tanks or amphora depending upon which wine he is making. White wines tend to be are aged in tank on fine lees for two to three months; red wines are aged on fine lees in a combination of 500L French oak casks and tank for one month. Very little sulfur is added during the winemaking process, to ensure the grapes' natural flavors are allowed to express themselves fully.

Nino's father collected 2500 kg (5511.5 lbs) of capers per year and produced red wine (Nerello Mascalese and Cappuccio, Perricone, Nero d'Avola, etc) that was sold as bulk wine or in wooden barrels, intended as blending wine for the Italian and French market. Nino took over his father's lands after his passing; he inherited 2 hectares of vineyards. He went to the Faculty of Agriculture of the University of Catania to better his skills and in '89 was off on his new adventure, with the goal of making the best organic/natural wines possible from this dot of an island. Today he has roughly 20 hectares, patches here and there on Salina, as well as, on the neighboring islands of Panarea and Lipari where he grows Malvasia delle Lipari, Catarratto, Nerello Mascallese, Calabrese, and Corinto Nero with the most respect to the earth and his and their roots.
Supply is low with these wines of Caravaglio. He does not make a ton, yields are very low. We seem to never get enough of Caravaglio's wines, grab them when you can!

Malvasia Bianco Secco Salina
90% Malvasia delle Lipari, 10% other indigenous grapes
Malvasia is a native white grape to Sicily. This awe-inspiring wine is mostly Malvasia delle Lipari with 10% being a field blend of indigenous grapes that have been in the mix for generations. Grown in the harsh volcanic soils in commune of Malfa on Salina, known to be the highest quality growing area on the volcanic island. Citrus and sea salt, a touch of herb with bright, bright acidity; a tasty celebration of the terroir, winds and sea. Perfect for pairing with fresh seafood; crudo; Mediterranean-inspired foods.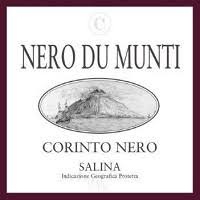 Salina Rosso Corinto Nero 'Nero du Munti'
100% Corinto Nero
On the neighboring island of Lipari, a short boat ride away, this 1.5 hectare, single-vineyard is rooted in the crater of an extinct volcano named Fosse del Monte. Corinto Nero is an ancient red grape variety from Turkey via Greece, which has a 'doubled' five-point leaves, and is naturally seedless. Nearly 80% of the vines are 150 years old- pre-phylloxera rootstock. Hand-harvested. Cold maceration then fermentation on indigenous yeasts in temperature-controlled, stainless steel tanks. Aged on fine lees in a combination of 500L oak casks and tank.intense, fruity with hints of plum and spicy, with strong hints of black pepper. The palate is fresh, tannic, persistent with a medium-bodied that holds stage with grilled red meats and meaty fish.
Chianu Cruci
(pron. kiànu crùchi)
80% Malvasia 20% Catarratto
Salina is essentially two extinct volcanoes pieced together by a valley called Valdichiesa. With in this beautiful 'pieced' valley there is an area named Chianu Cruci . This wine is named after this tranquil spot of land.
With this white wine, Caravaglio, keeps it on the skins for a far greater time. 80% Malvasia grapes and 20% other local grapes, though mostly Catarratto. They are harvested on the second week of September. The grape is then de-stemmed and left to macerate. After a month of maceration, the skins are separated from the wine, thus obtaining half of the original volume. The wine then rests and goes through the malolactic fermentation. In spring the wine is racked in order to get rid of any sediment and bottle it. Not much is made, and when we can get a few bottles, life is that much better!
Malvasia Secca, 'Occhio di Terra'
A specific selection of Malvasia delle Lipari grapes from a small vineyard set high in the volcanic hills of Salina. Hand-harvested and sorted in the fields. Gentle, temperature-controlled maceration for 10 days before pressing. Fermented on indigenous yeasts in stainless steel tanks. Aged in tank for six months.This wine a some skin in the game! A brief maceration on the skins gives this wine more depth and complexity and a bit of rustic charm that really stands up to food. Aromas of lemon preserves, peaches, a touch of pineapple, and a big helping of sea air. Medium-bodied, refreshing acidity. Just the wine to enjoy with grilled swordfish and meaty fish an d pasta dishes.