The legacy, and topography, as well as, the history of Fattoria di Palazzo Vecchio is as intricate and expressive as the wines they make today. Once known as Fattoria di Valiano, it was built and owned for many centuries by the Marquises of Valiano, a noble woman from Florence, and her family there after. The estate is perfectly positioned in the border area between the Papal States and the Grand Duchy of Tuscany and overlooking the Val di Chiana. It has witnessed great historical events including the reclamation of the valley which once sat under water, hydraulic work by Leonardo Da Vinci, and grandiose engineering by Antonio da Sangallo. The estate has worn many hats in its day- a residence for homeless children of Florence, a monastery for monks who built the cellar and were quietly known for making some fab beer, a famous agro institution, The Institute of Capezzine, and if that is not enough, now a winery under the family of Count Riccardo Zorzi who purchased the land in 1970.
For centuries the lands have been worked and greatly admired for its rich, strong soils of clay. Today the 25 hectare estate has 7 hectares. Their focus is making better wines, not growing more grapes. Under the direction of the family, they grow 70% Prugnolo Gentile Sangiovese, 15% Canailo Nero, 7% Mammolo and the rest Malvasia and Grechetto for their Vin Santo. They farm their vines organically with minimal use of anything with the average age of vine being 45 years old.
'Dogana' Rosso di Montepulciano docg
Prugnolo Gentile 85%, Canaiolo Nero 10%, Mammolo 5%
This youthful wine comes mostly from their younger vines. Here you will find an approachable wine that still represents all that is Montepulciano. Maybe I have watched too many romantic British series, nevertheless, the nose is a contemplation of sipping espresso, while nibbling on tea cakes in a warm cottage garden. Brambly roses, spring violets, fleshy black raspberries, and wild cherries mixed with the bittersweet notes of brew. This is a juicy, fruity wine, accented with notes of sweet cake spices and held together by lean tannins. A wine meant to be enjoyed.
Color : brilliant ruby red
Bouquet : beautiful personality with aromas reminiscent of wild berries
Taste : persistent finish with very balanced tannins
Fermentation : steel containers with controlled fermentation
Elevation : minimum 8 months in oak barrels
Pairings : Pasta and rice first courses, main courses and fresh cheeses.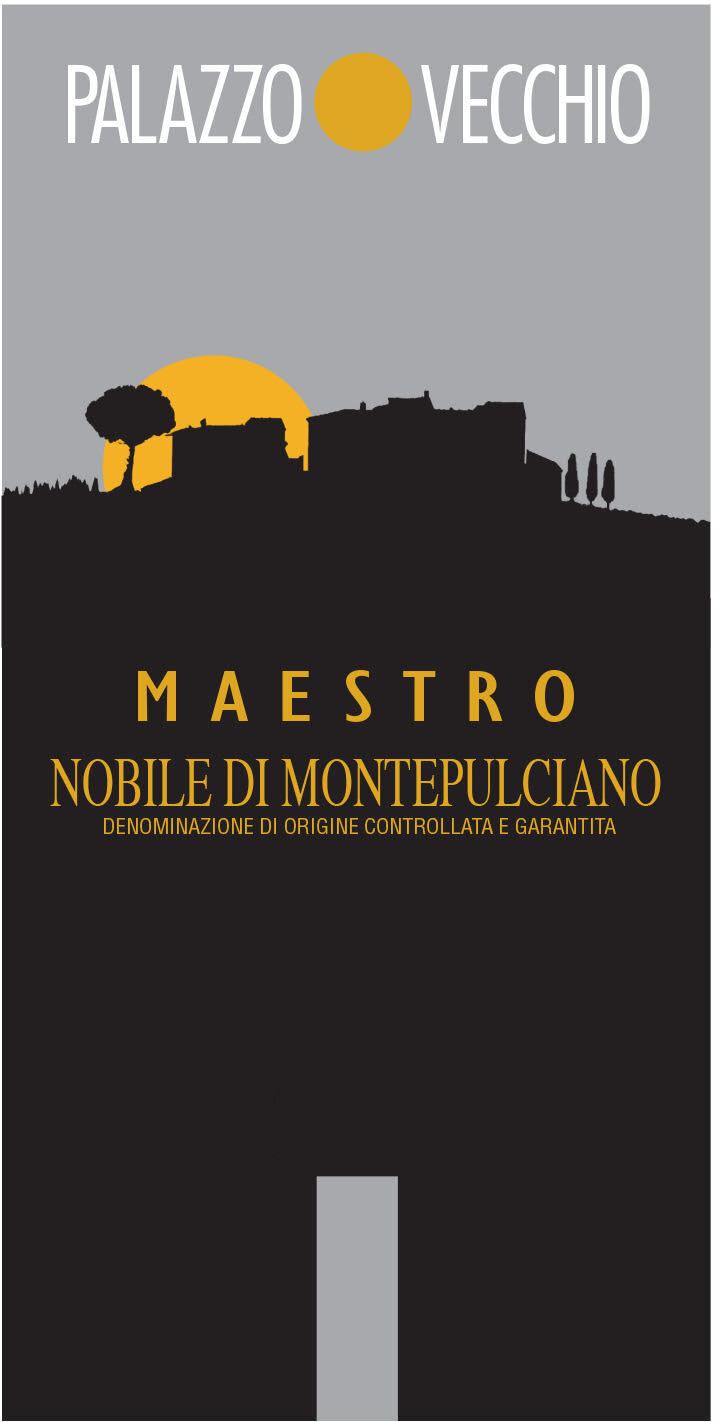 'Maestro' Vino Nobile di Montepulciano docg
Prugnolo Gentile 85%, Canaiolo Nero 10%, Mammolo 5%
Delectable and enticing aromas of violets with a soupçon of lavender. There are plenty scents of baking-spice and fall plum to remind you of cooler weather, circling with wild mountain fennel and old-growth forest with it's musty, funky, dense tang reminiscent of dirt-covered mushrooms. The tight and straight palate you'll find fine yet textural tannins with flickers of dried black cherry, and a hint of cedar cigar box.
Color : intense and deep ruby red.
Perfume : soft and enveloping with hints of mammolo and black berry.
Taste : round, balanced, well structured and persistent.
Fermentation : steel containers with controlled fermentation
Elevation : 24 months in French oak barrels
Aging : minimum 6 months in bottle
Pairings : Full-bodied first courses and second courses with red meats. Seasoned cheeses.